Plumbing is a crucial aspect of any home or business, and finding a reliable service in Portsmouth can be a significant task. At Pure Mechanical, we pride ourselves on delivering quality plumbing in Portsmouth to our community, ensuring your plumbing system works efficiently and effectively.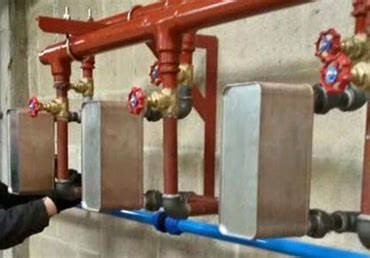 The Importance of Quality Plumbing
Quality plumbing is much more than the simple convenience of having running water at your disposal. It plays a vital role in maintaining the health and functionality of your home or business premises. It's the silent workhorse of the building, often overlooked until something goes wrong. Let's delve deeper into why quality plumbing services in Portsmouth, or anywhere else for that matter, are so crucial.
Health and Hygiene – Firstly, quality plumbing is paramount to health and hygiene. It facilitates the delivery of clean water and the efficient disposal of waste, both of which are critical for maintaining a clean and healthy living environment. Without proper plumbing, we would be exposed to the risks of contaminated water and unsanitary conditions, leading to potential health hazards.
Comfort and Convenience – Quality plumbing ensures comfort and convenience. It provides easy access to water for everyday tasks such as cooking, cleaning, and bathing. When plumbing issues arise, they can cause significant disruptions to daily life. Imagine a day without access to hot water or dealing with a blocked drain. Quality plumbing services in Portsmouth from a reputable company like Pure Mechanical can help avoid such inconveniences.
Property Value – Quality plumbing also contributes to the value of your property. A well-maintained plumbing system is a significant asset, especially if you plan to sell your property in the future. Potential buyers in Portsmouth are more likely to invest in a property with a well-maintained plumbing system, knowing that they won't have to deal with the hassle and expense of major plumbing repairs anytime soon.
Cost and Energy Efficiency – Finally, quality plumbing can lead to cost and energy savings. Efficient plumbing systems help to conserve water and energy, reducing your utility bills and environmental footprint. For instance, a small leak may not seem like a significant problem, but over time, it can lead to substantial water loss and higher water bills. By investing in quality plumbing services, such issues can be identified and rectified early, saving you money in the long run.
Quality Service from Plumbing in Portsmouth with Pure Mechanical
At Pure Mechanical, we believe in providing only the best quality plumbing services in Portsmouth. Our commitment to excellence is evident in the wide array of services we offer, our professional approach, and our keen attention to detail.
Wide Range of Services – Our services cover every aspect of plumbing, from installation and maintenance to repair and replacement. Whether you need help with a simple faucet leak, a blocked drain, or require comprehensive plumbing for a new build or renovation, we have the skills and expertise to handle it all. We also offer emergency plumbing services, because we understand that plumbing issues can arise unexpectedly and need immediate attention.
Highly Skilled and Certified Team – Our team of plumbers in Portsmouth is not only highly skilled but also certified to ensure that they adhere to all local codes and standards. They are well-equipped to troubleshoot and solve all your plumbing problems, no matter how complex. Their vast experience allows them to pinpoint the root cause of an issue and provide an effective solution, rather than just treating the symptoms.
Use of High-Quality Materials – Quality plumbing services are not just about expertise; they also involve the use of high-quality materials. At Pure Mechanical, we only use the best materials and products from trusted suppliers. This guarantees the longevity and reliability of our work, ensuring you won't need frequent repairs or replacements.
Customer Service Excellence – Our commitment to quality extends beyond our plumbing services to include our customer service. We understand that dealing with plumbing issues can be stressful, which is why we strive to make the process as smooth and hassle-free as possible for our customers in Portsmouth. From your initial contact with us to the completion of the job, we aim to provide a seamless and satisfying experience.
Transparent Pricing – At Pure Mechanical, we believe in honesty and transparency, especially when it comes to pricing. We provide clear and upfront quotes, so you know exactly what to expect and can plan accordingly. There are no hidden costs or surprises, just fair pricing for quality work.
Dedication to Safety – Safety is a top priority at Pure Mechanical. We follow strict safety protocols to ensure the well-being of our team and customers. All our plumbers are trained to handle various plumbing tasks safely and efficiently, minimising any risk of damage to your property.
By choosing Pure Mechanical for your plumbing needs in Portsmouth, you're opting for quality, professionalism, and peace of mind especially when it comes to Heating and Plumbing. With our comprehensive services, skilled team, and commitment to customer satisfaction, we're confident we can meet and exceed your expectations.
Why Choose Pure Mechanical for Your Needs of Plumbing in Portsmouth?
Selecting a plumbing service provider is a crucial decision for homeowners and businesses alike. It's about entrusting the well-being of your property's plumbing system to a capable and reliable team. Here's why Pure Mechanical is the go-to choice for plumbing services in Portsmouth:
1. Extensive Experience: With years of experience under our belt, we bring a depth of knowledge and expertise to every project. We've handled a diverse range of plumbing issues, allowing us to swiftly identify and rectify any plumbing problem you might encounter. Our experience empowers us to offer robust, long-lasting solutions instead of mere temporary fixes.
2. Certified Professionals: Our team is composed of highly skilled, certified professionals who are adept at their craft. They are trained to adhere to the latest industry standards and local regulations, ensuring that the work carried out on your property is compliant and of the highest quality.
3. Comprehensive Services: From minor repairs to major installations, our comprehensive range of services caters to all your plumbing needs. We are equipped to handle projects of any size and complexity. Additionally, our emergency plumbing services in Portsmouth ensure that you're never left stranded with a plumbing issue.
4. Quality Materials: We believe in quality inside and out, which is why we use only the highest-grade materials and products in our services. This commitment to quality means that our repairs and installations are designed to last, offering you better value for your money.
5. Customer-Centric Approach: At Pure Mechanical, the customer is at the heart of everything we do. We strive to provide a seamless and stress-free experience from start to finish. We're known for our friendly service, clear communication, and willingness to go the extra mile to ensure customer satisfaction.
6. Transparent Pricing: We offer competitive and transparent pricing with no hidden charges. Our clear quotes provide you with a detailed understanding of the cost involved before we commence work. This transparency allows you to make informed decisions and ensures there are no unexpected surprises when the bill arrives.
7. Commitment to Safety: We are dedicated to maintaining a safe environment for both our team and our customers. We follow stringent safety protocols and best practices during every job, ensuring that our work is carried out safely without any compromises.
8. Local Understanding: Being a local business, we have a deep understanding of the specific needs and requirements of homes and businesses in Portsmouth. This local knowledge allows us to offer solutions that are tailored to suit the unique plumbing infrastructure in the area.
When it comes to your plumbing needs in Portsmouth, Pure Mechanical stands as a trustworthy and efficient choice. Our dedication to quality service, customer satisfaction, and professional integrity makes us the preferred option for many in the Portsmouth area.
Plumbing is an integral part of any property, be it residential or commercial. It is one aspect you simply cannot afford to compromise on due to its direct impact on the comfort, safety, and even the value of your property. As such, it's essential to have a reliable plumbing service provider that you can count on, like Pure Mechanical.
Our commitment to excellence in service, the use of high-quality materials, and the delivery of customer satisfaction makes us a preferred choice for plumbing services in Portsmouth. With a robust combination of experience, professionalism, and dedication to safety, we stand ready to address all your plumbing needs.
Whether you need routine maintenance, a complex installation, or an emergency repair, Pure Mechanical is equipped to provide a solution that meets and exceeds your expectations. We are not just providing a service; we are building lasting relationships with our customers through trust, transparency, and the consistent delivery of excellent service.
So, the next time you think "Plumbing in Portsmouth," think Pure Mechanical, your local plumbing experts committed to making your experience stress-free and satisfying. Contact us today, and let us take care of all your plumbing needs with the professionalism and efficiency that we're known for. When it comes to Plumbing, trust Pure Mechanical – your dedicated team of experts ready to provide you with a stress-free and satisfying experience. Our commitment to excellence is unmatched, and we take pride in being your go-to local plumbing service. Whether it's a simple repair or a complex installation, our professionals will handle it with the utmost professionalism and efficiency. Don't settle for anything less than the best; contact us today and experience the Pure Mechanical difference for all your plumbing needs in Portsmouth and beyond.
Read more:
Why Choose us for Air Conditioning Installation In Portsmouth?
Pure Mechanical: Key Steps in Plant Room Installation in Hampshire
More Posts You May Find Interesting